20140827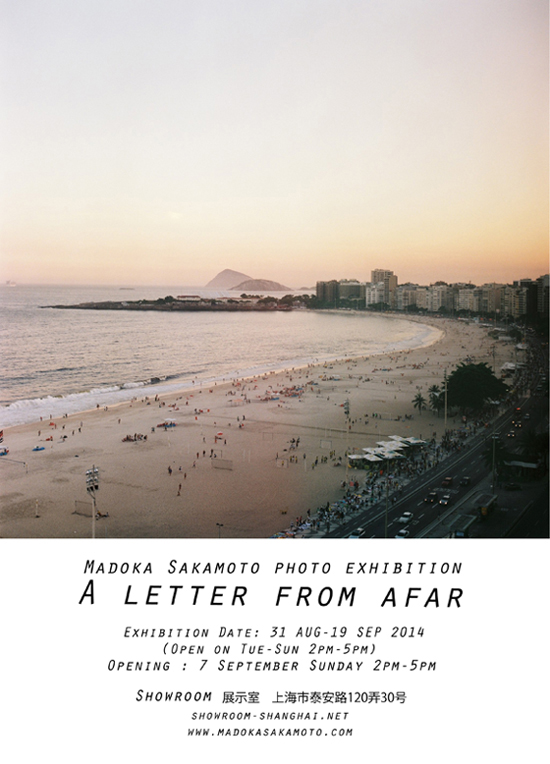 Here is my announcement of my 'petite' photo exhibition which starts this coming Sunday, on 31th Aug.
Thanks to many nice encounters one after another, I'm very happy to have an opportunity since I had dreamed of it for a long time while I had been busy with my babycare especially after I gave birth to my son and became a mother.
My works were taken on my traveling from 2006 until 2012, which was before my son's birth. Modest, Gentle, and keeping calm work of nature and human beings which you could see from these.
The exhibition will be held in the Showroom at Tai An road /Shanghai from 31st Aug until 19th Sep. Also, I would love to invite you the opening party on 7th Sep. I hope you will enjoy.
If you have some friends or families in Shanghai, please forward my invitation to them. It would be appreciated.
I am very looking forward to seeing you there.
------------------------------------------------------------------------------------------
Madoka Sakamoto Photo Exhibition『A letter from afar』
31st Aug Sunday ~ 19th Sep Friday 2014
▼ Opening ▼ 7th sep 2014, 14h00 ~ 17h00
Showroom
www.showroom-shanghai.net
1st floor, no.30, lane 120 Tai An road, Shanghai China
Tue - Wed / by appointment ( +81 137-6434-3706 )
Thu - Sun / 14h00 ~ 17h00
-------------------------------------------------------------------------------------------
Photo exhibition 「A letter from afar」 | 22:49 | - |
News